New Zealands finest Roasted Caramelised Nuts!
Handmade in Beautiful Nelson, NZ. Nutty D'Lites has got you covered for yummy snacks. Perfect for any occasion. Satisfy your cravings with these mouth-watering Cashews; all of our nuts are roasted and caramelised by hand in the traditional way.

Handcooked, to perfection!
Europeans have been enjoying these delicious treats for centuries! These tasty and crunchy, snacks are simply perfect for any occasion. Caramelised Nuts are an easy way to add a little sweetness to your everyday life.

A Traditional European Confection!
Whether you are hosting a party or want to treat your family to delicious, indulgent snacks.
Our delicious, handcrafted confectionery is made with love.
We offer a range of flavours for any taste palate, so you'll be sure to find something that's just right for you.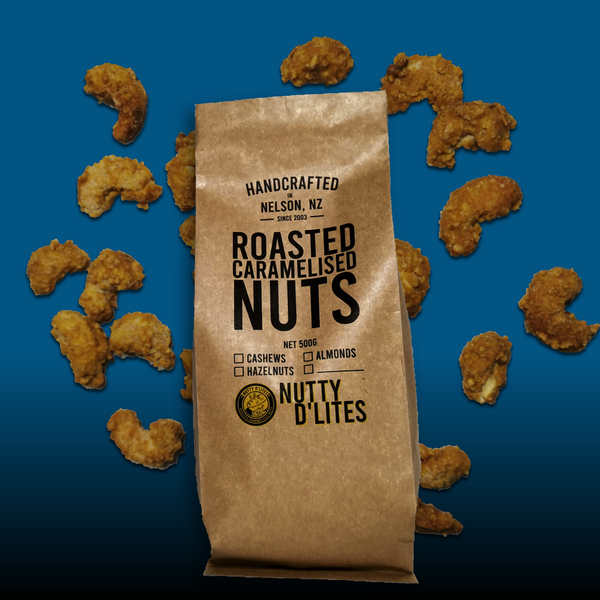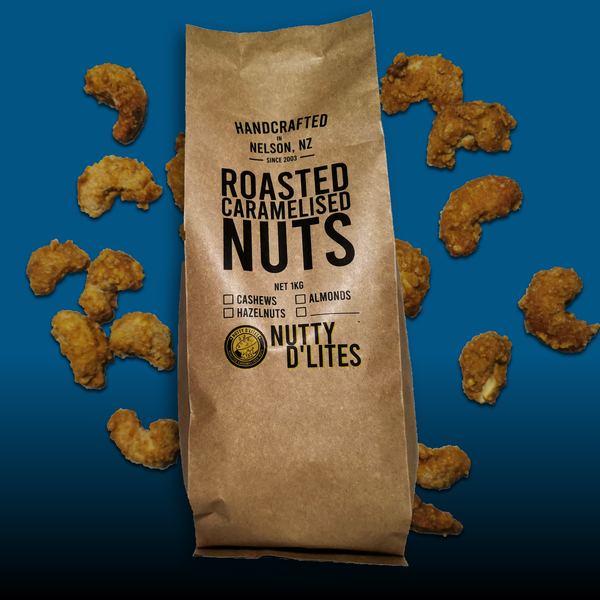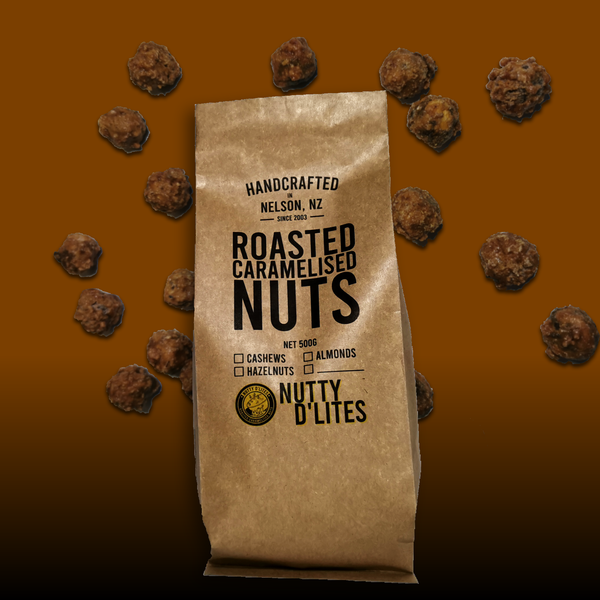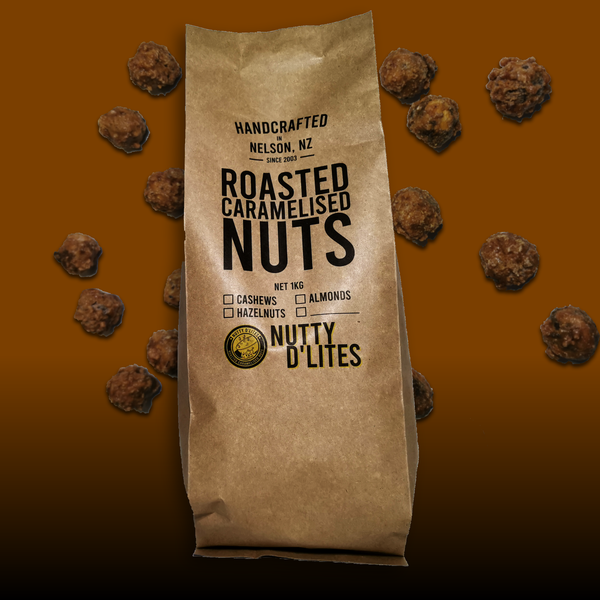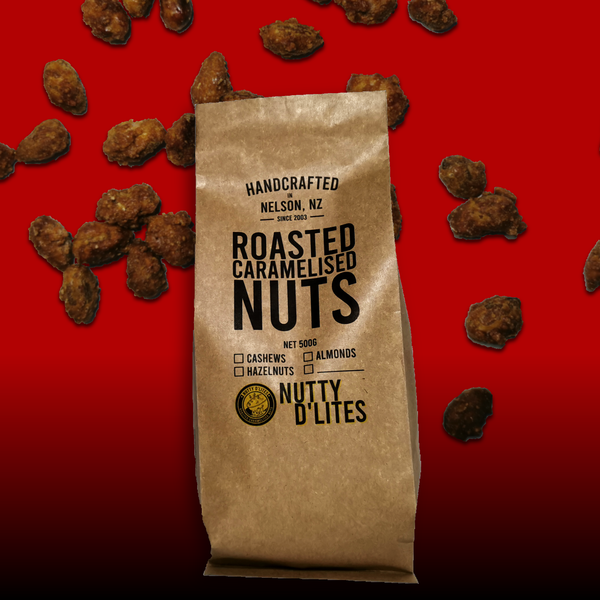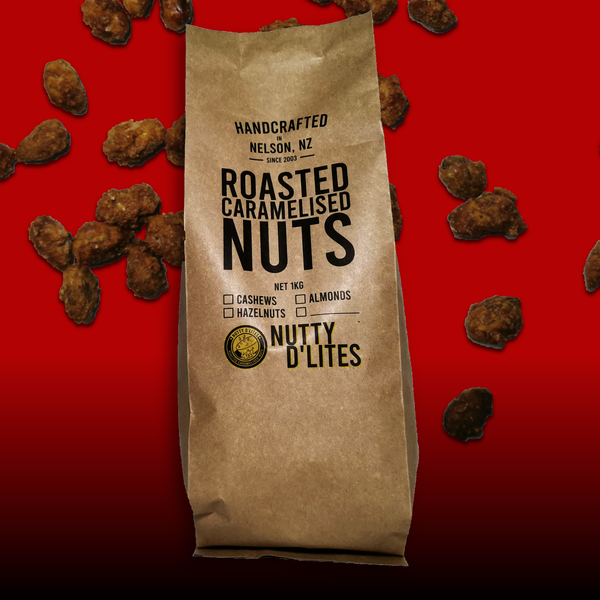 We've been handcrafting our Roasted Caramelised Nuts in Nelson, NZ since 2003.
We take pride in our process, which starts with mixing the perfect blend of ingredients. Each nut is lovingly coated to create a delicious caramelised indulgence.
Discover our story
Go Nuts! They are delicious.
Audrey C
Best nuts in town, being buying the cashew nuts for year, so yummy.
Shirley H
My niece bought some of these back from her trip to Nelson. They are AMAZING!! Can I order online and have them sent to Auckland?
Tracey D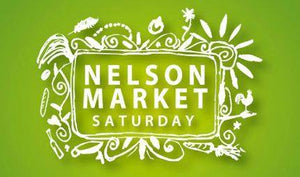 Experience The Nelson Market every Saturday from 8am. More than shopping, it's a way of life. Explore high-quality produce, gourmet goods, local art, and craft. What's on in Nelson starts here!
The Nelson Market
Every Saturday | from 8am
Welcome to The Nelson Market, where every Saturday from 8am, Nelson comes alive with the finest produce, gourmet goods, and local art and craft.
It's not just a place to shop; it's a way of life. Love fresh produce and good food? You'll find high-quality produce, freshly-made pastries, artisan bread, fresh fruit, olives, meats, and delicacies.
The market also features local art and craft stalls. The Nelson Market is the perfect destination for those seeking something unique and delicious.
Join us this Saturday and explore the heart of Nelson's vibrant culture!
Learn more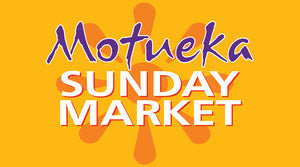 Join us every Sunday from 8am at the gateway to Abel Tasman National Park. Discover fresh produce, artisan crafts, and a warm welcome at Motueka Sunday Market. A New Zealand gem for over 30 years.
Motueka Sunday Market
Every Sunday | From 8am
Welcome to Motueka Sunday Market, where every Sunday from 8am, this small town on the edge of the Abel Tasman National Park comes alive with the finest artisan crafts and locally grown produce.
For over 30 years, the market has been a New Zealand gem, offering a warm welcome to visitors from across the country and beyond.
Explore a variety of fresh produce, gourmet foods, arts and crafts, fashion, furniture, toys for children, and many specials.
Join us this Sunday to experience the essence of Motueka's vibrant culture!
Learn more
Keen to stock our nuts?
We're expanding our network of stockists, and we'd love to have you join our growing family. Together with our valued partners, we aim to bring our handcrafted caramelised nuts to your customers and community. Discover how to become a Nutty D'Lites stockist below.