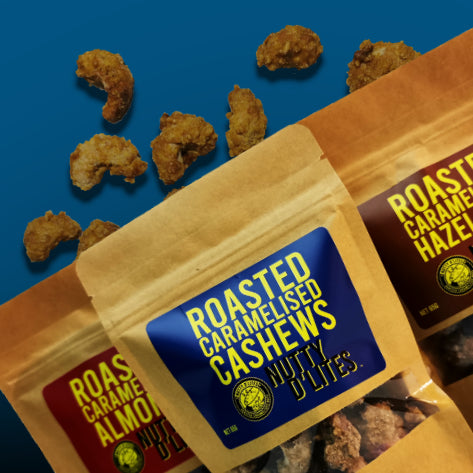 Explore Our Full Range of Delights
Indulge in New Zealand's Finest Handcrafted Caramelised Nuts
If you're craving something sweet, our roasted caramelised nuts, handcrafted in a traditional copper pot, are your perfect treat. Our unique roasting and caramelising process accentuates the natural flavours of cashews, hazelnuts, almonds, and more, making them irresistibly delicious.
Cashews offer a creamy texture and a mildly sweet, buttery taste, enhanced by our caramelisation process.
Almonds present a bold crunch and a rich, nutty flavour, complemented by the sweetness of caramelisation.
Hazelnuts deliver a delightful crunch with a slightly deeper, earthy flavour, harmonising beautifully with the caramelised coating.
Explore our variety of flavours all lovingly handcrafted in a traditional copper pot. Discover your ideal nutty indulgence today.
Why wait? Try one of our best-selling caramelised nuts, a delightful fusion of the finest nuts, snack food, and confectionery, and satisfy your sweet cravings!